How to boost traffic on your website? No matter what you specialize on, these 23 techniques will improve user experience and let people know about the existence of your project. Here's what you can do online and offline to expand your presence.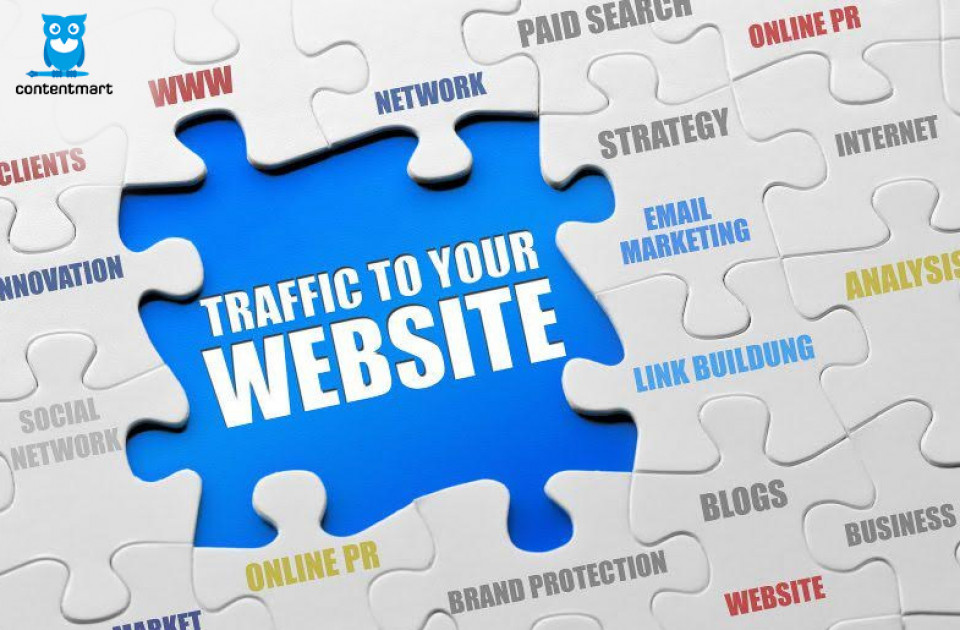 As a marketer or a business owner, you aim to get more customers and higher conversions. That directly depends on the volume of traffic you receive. There's a myriad of techniques to attract traffic to your website, and today we will observe 23 ways to increase traffic to your website which require zero or low financial investments.
1. Use Advertisements
Yes, it seems to be obvious, but this is the first thing marketers and website owners resolve. Paid search and ads in social media are perfect ways of attracting visitors, improving your brand image and exposing your project to the audience. Tailor your strategies to your aims and goal: do you just need traffic, or need higher conversions, too? Every paid advertising channel has its advantages and drawbacks, so plan ahead and consider your objections before breaking the bank.
If you expect the growing traffic to boost sales, you need to target popular commercial keyword and phrases as the element of your paid search tactics. The level of competition for these requests can be high (and costly), but the results you can reach are worth.
2. Go Social
No matter how great your content and products are, you can't just publish them and hope that people will find it. Be proactive: the most widespread modern way of website promotion is social media channels. You can reap benefits from some certain media environment or may combine them together. Twitter is perfect for short and concise news and links, while Google+ can be a great promotion tool that shows personalized search results, which is especially useful for the B2B business field. If you run a B2C company, you may gain benefit from image-rich media sources like Pinterest and Instagram. Here are some guidelines for efficient social media marketing:
Publish regularly.
Boost traffic to website social media icons.
Work with images via Pascale Communications
Keep in mind that it's not enough just to make publications in social networks: you should be actively engaged in conversations and the community you create. Join group discussions with relevant hashtags. If your readers leave comments, don't hesitate to answer them. Social media channel that's actively supported allows website owners get sincere opinions and recommendations on how their business can be improved. Interact with your fans, and traffic boost will be witnessed soon.
3. Make your content diverse
There's no one-fits-all solution for successful content marketing. So you need to research your audience and give people what they expect to see. Vary the format and length of your content to make it more attractive for different kinds of visitors. You can start with short news and complement them with longer blog posts and other kinds of content, such as video, infographics, Flash games, contests, photo galleries, and so on.
Put a heavy focus on video content: while text-based pages supply visitors with information, some people simply don't like reading. They find video more engaging instead. Indeed, the amount of video content on websites is increasing steadily, and today it's considered a primary source of information, no matter what your online business is dedicated to. Video marketing is an excellent way to generate more traffic.
4. Write Viral Headlines
Headline is what leaves the first impression about your content. Without an appealing headline, even the coolest blog posts may simply stay unread. Master the skill of creating irresistible headlines and titles. Make several variants to select the best one. Follow the example of well-established writers on BuzzFeed and Upworthy: sometimes they create over 20 headlines before finally setting on the one that's expected to grab more attention and drive more traffic. Before clicking 'Publish', think carefully and check the title from the reader's standpoint.
5. Primary Attention to On-Page SEO
Although some claim that SEO makes no difference, content optimization is still crucial for search engines. It will never hurt. Ask yourself:
Do I write image alt texts?
Do I include internal and external links to my content?
Do I add meta descriptions?
Yes, SEO optimization is a time and effort consuming process, but it takes its positive toll. Search engines still take it into consideration, and it DOES influence your ranking and DOES attract organic traffic, especially if you develop a fresh website and promote the old one.
6. Make Sure Your Website is Responsive
Today, the majority of Internet search is done via mobile devices (about 66% of traffic comes from smartphones and tablets). The days when PCs were the only way to get connected to the Internet are long gone. Most likely, your visitors also prefer surfing the Net with their mobiles, so don't deprive them of such opportunity! If you make them scroll your website all the way down and punch terribly small buttons, you simply tell them "Go somewhere else". Make sure that your website is highly responsive and accessible from different gadgets with different screen resolutions. You can also try Google's AMP (accelerated mobile pages) to boost the speed of loading on smartphones.
7. Don't be Afraid of Long-Tail Keywords
We've got used to the fact that the vast majority of key phrases include 2-4 words. But since the number of mobile users and, consequently, the volume of voice search increased, it's time to target long-tail keywords. Today, long-tail search requests make up for the majority of web searches, so if you miss on them, you can deprive your website of traffic.
8. Go After Referral Traffic
Instead of asking other websites to link to you (which is a time-consuming and hard task), make the content that people would like to link to. Google which types of links can bring you referral traffic, and how to get them – it may depend on the sphere you specialize on.
9. Post Content to LinkedIn
Today, LinkedIn is not just a platform for searching job. It's the biggest professional social network and a great publishing platform where you can post content regularly. Reap benefits of it: such posts will improve your profile in your industry and boost traffic, especially if you have a significant amount of followers.
10. Leverage Schema Microdata
Although implementation of schema (or another microdata format) doesn't guarantee traffic surge on your website by itself, it can make it easier for search engines to discover and index your pages. One more benefit of schema for SEO is that it can improve rich site snippets, which in its turn will boost click-through rates.
11. Check Your Analytics Data
Where to get detailed analytics data? Google Analytics is a great source of data on almost every aspect of your site, starting from the most popular pages and finishing by audience demographics. With the help of analytics data, you can make informed decisions and create efficient content strategies. Figure out which posts and pages are the most popular, track where and when the site traffic comes from.
12. Place internal links
The amount of external sites linking back to you is as important as your own internal linking structure. When you create and publish content, include the internal links to your texts. It not only improves SEO, but also makes up for a better user experience – the primary condition of website success.
13. Try Guest Blogging
If you need to add authority to your project, try working with experts and professionals – establish a guest blog outside the frames of your online environment. Sounds like an impossible task? You think it's an outdated approach? In fact, a guest blog on a reputable site can help you to build your brand image. However, note that the contemporary standards of guest blogging are very much different from what they used to be, and spammy posts will only make things worse. Don't overuse promotion and advertisements – make them non-intrusive.
14. Let Other Writers Make the Guest Blog on Your Site
As you can guess, other people may also contribute to your website. While you post your content on other blogs, invite people share their knowledge and ideas on your website. Most likely, they'll share links in the guest article, and that could bring readers to your site, too. Make sure that what they write is of high quality, and it is original content without spammy links. Otherwise, Google may penalize your website for low-quality guest blogging.
15. Interview Industry Experts
Think that interviews are appropriate on big and well-established websites only? You'd be surprised by how many professionals and experts would like to talk to you, if you just ask them. Send out email requests to interview the leaders of your industry, and publish your dialogues on your blog. The name recognition will add credibility to your website, and the interviewee is likely to share this content, too, which will bring you new audience.
16. Email Marketing is Still Useful
Web-masters try new ways of attracting customers via sophisticated content marketing strategies, but they forget about conventional methods of promotion, such as email marketing. It can be a very efficient tool, and even a short-term mailshot can cause a considerable surge of traffic. Make sure you don't send people useless letters about insignificant updates in your business: provide them with truly useful information. Your newsletter should remind readers of new services, products, and special offers to heat their interest and boost traffic.
17. Turbo-charge Your Website Speed
Hate wasting seconds while slow websites are loading? Everyone does. So don't make your visitors wait. If your website takes eternity to load, your bounce rate will simply soar. Make sure that your pages are optimized for fast loading, including all the content on them (images, page structure, CSS, JavaScript, and plugins). The quicker your website load, the better. Besides, the speed influences ranking in search engines together with user experience.
18. Create the Sense of Community
In order to drive visitors' attention, you need to turn your website into a community where soul mates can find each other. Some people need a piece of advice, while others are just craving to share their opinion. Why not letting them help each other? Creating a community and starting a conversation can definitely increase the traffic to your website and make people come back again and again. Leverage a convenient and robust comment system using third-party plugins and solutions like Facebook comments. Alternatively, you can create a forum for your visitors. Don't forget to manage your community and keep it free from spam and inappropriate content.
19. Let People Hear About You in Comment Sections
Most probably, you know at least a few websites that are relevant to your business and post articles and blog posts related to your content. So join the conversation! Your comments won't necessarily drive immediate referral traffic, but they definitely help to make your name by providing insightful and useful comments in popular blogs. Just keep in mind that just like in guest posting, quality and relevance of your information are important. You should be communicating and interacting with people from your niche, not bombard them with spam links to unrelated websites.
20. Submit Your Content to Aggregator Sites
You shouldn't necessarily spam websites Reddit and other similar platforms hoping to get a burst of referral traffic – it won't work this way. Reddit users value truly useful content, so submit the links that they would really like. Select a relevant section, leave high-quality posts and comments, then watch the traffic pour in.
21. Check the Competition
Still haven't tried software like BuzzSumo to get the information about your competitors? It's time to do that right now! Such services show the social performance of certain sites and contents to show you which topic are the most appealing for readers and, which is important, it acquires statistics from social media. Find out what your potential audience is reading and discussing, and figure out what type of content will attract traffic to your website.
22. Organize Webinars
The number of people learning online is growing, and webinars are a great way to share your wisdom with the audience that craves for new information. Combine webinars with a social promotion campaign, and you'll see how traffic to your website is increasing steadily. To organize a webinar, send out an email a week earlier, as well as "the last chance to register" reminder 1-2 days before the webinar. Create a presentation and promote your webinars via social media.
23. Attend Conferences
No matter what your industry is, there're always a couple of some major conferences and conventions taking place somewhere. Attending such event is always a great idea, and speaking at them is a brilliant idea. This is an excellent way to establish your authority and gain extra exposure to your website.
Combine all these techniques, and the traffic to your website will soar. Implement them one by one and check what works better in your case.